4.4inch and 2.7inch with MIP (Memory In Pixel) Reflective Type Color LCD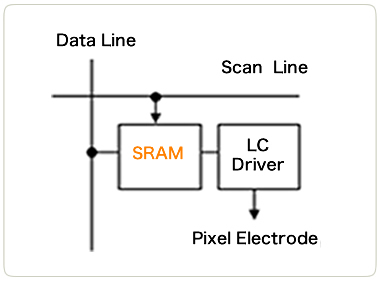 There is a SRAM (static random access memory) in each pixel which can store image without continuous signal input.
In this case, controller in customer's system can be in sleep mode or totally off to achieve ultra‐low power consumption.
Product Name: TX11D200VM1AAA (JDI, LPM044M141A) - 4.4inch with 640x480 Resolution (Download)
Product Name: TX07D200VM1AAA - 2.7inch with 400x240 Resolution (Download)
This LCD module is suitable for a wide variety of IoT products and application, including outdoor sports gears, medical & healthcare devices, remote controllers, and portable devices.
Features
:
- Ultra Low Power Consumption
4.4inch (Power Consumption: 0.0054W for LCD; 0.396W for backlight)
2.7inch (Power Consumption: 0.12uW for LCD; 0.18W for backlight)
- 8 colors, SPI (Serial Peripheral Interface) interface
- Super high reflectance (4.4inch - 18%) and (2.7inch - 19%)
- Ultra slim & compact design
- With LED Backlight design
- Readability Comparison under direct Sunlight and Dark Environment.
※ Please contact us when you are interested in this 4.4inch and 2.7inch MIP Reflective Type Color LTPS TFT LCD Module.  sales@gtc-tw.com